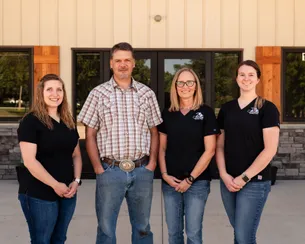 If you live in Garnett or the surrounding area and need a trusted veterinarian to care for your pets -- look no further. Countryside Veterinary Clinic treats all types of pets and livestock. Your animals health and wellbeing are very important to us, and we take every possible measure to give your animals the care they deserve.
Countryside Veterinary Clinic is a full service animal clinic and welcomes both emergency treatment cases as well as pet patients in need of routine medical, surgical, and dental care. Our doctors are experienced at treating serious conditions and offering regular pet wellness care. Beyond excellent pet care, we make our clinic welcoming and family friendly.
Please feel free to browse our website. We are happy to offer a number of resources that enable you to learn about care of your animals. Becoming knowledgeable about preventive care and problem prevention is essential for your animal's health. If you have questions, call (785)448-6454 or email us and we will promptly get back to you. Our Garnett veterinarian clinic is very easy to get to -- you can find directions on our Contact Us page!
At Countryside Veterinary Clinic, we treat our clients and their pets like the valued family members they are.

Garnett Veterinarian | Countryside Veterinary Clinic | 785-448-6454
1002 S Hayes St
Garnett, KS 66032