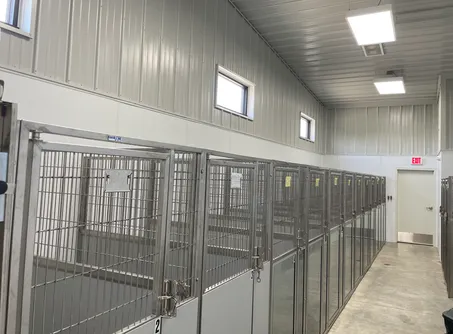 Countryside Veterinary Clinic is dedicated to providing your pet a safe and comfortable place away from home. Our boarding facility features temperature-controlled indoor boarding with family style kennels and runs. Each pet is taken for a walk or given the chance to explore in our exercise yard two to three times daily. When weather permits, boarding dogs are able to be spend time in the outdoor runs for a few hours each day. We have bedding and blankets as well as food and water bowls to provide for all of our guests, but if you prefer to bring them special toys or other items to make them feel comfortable you are welcome to do so. Feeding times can also be tailored to meet your pets needs during their stay. While we do provide food for your pet (Science Diet Maintenance), you can supply your own food if a special diet is required or if you prefer to keep your pet on their own familiar diet.
To ensure the health of your pet, our clinic requires the following vaccines:
DOGS: DHLP, Bordetella, Rabies
CATS: FVRCP, Rabies
Please bring a copy of your pet's vaccination records with you when you check your pet in for boarding. If your pet is not current on vaccines, we can update them the day they come in. Our clinic is open for pick up and drop off for boarding pets Monday through Friday 7:30 am to 5 pm and Saturday between the hours of 8 am and 2 pm. We have kennel staff present to care for animals on Sunday but are not open for pick up or drop off on this day.
Give us a call today to schedule your pet's stay or with questions regarding our boarding policy. (785)448-6454